WE HAVE MOVED
Welcome to George Mason University Model United Nation's online home!
A little about us-
Our meetings are every Thursday from 7:30-8:30pm in SUB1 Room 3B
We attend collegiate Model United Nations conference on the East Coast,
We host our own high school conference, the Mid-Atlantic Simulation of the United Nations (MASUN),
We attend collegiate Model Arab League conferences in the Washington, D.C. area,
We host MUNtalks, where professionals from the international relations community speak on their work and how as college students we can best get involved,
We attend functions at embassies, public speakers, and other international events in the D.C. area,
We co-host culture nights with other GMU student organizations to expand club members' knowledge of other cultures, and
We participate in the local high school Model United Nations circuit, assisting in conference management, serving as Committee Chairs and providing training to local high school Model UN teams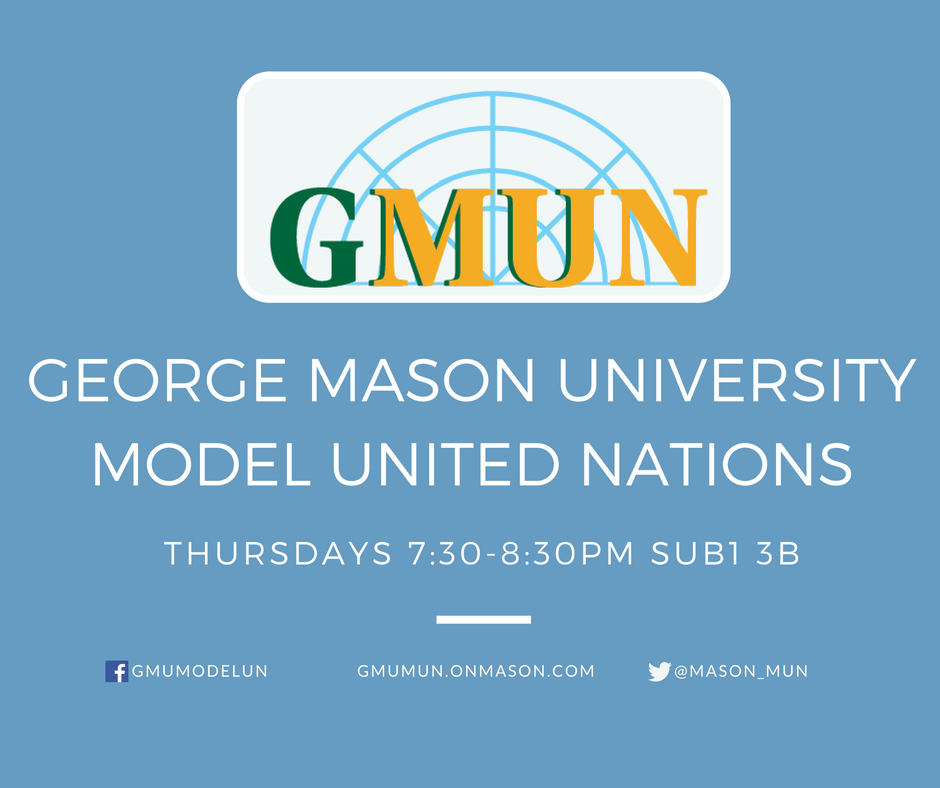 GMU Model United Nations focuses on preparing for collegiate Model UN and Model Arab League conferences by practicing debate procedure, studying other nations' policy and global issues, and learning about other cultures. We have simulations on various topics at our meetings, and host social events that explore other cultures and current events. We are open to collaborate with other student organizations related to any of the topics above. You contact us at gmumodelun@gmail.com
If you have any questions which can not be answered by our website feel free to email questions to gmumodelun@gmail.com. And be sure to like us on Facebook and follow us on Twitter!